Willy Nacho is a familiar name in the world of festivals, retail & foodservice.
The range has grown into a total concept for preparing a serving of nachos & other Mexican dishes.
600+
Selling points and growing...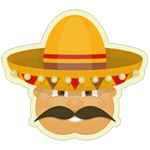 Our mission is to honestly and sustainably grow Willy Nacho within retail, foodservice, leisure & the festival world.
Why Willy Nacho?
"Our tortilla chips are super crunchy and gluten-free because they are made from cooked corn"
"Our Classic salsa is made from rescued vegetables by the Verspillingsfabriek. In this way, we reduce food waste."
"Our products are for everyone! That means we have a diverse assortment including vegan products"
"Willy Nacho finds its origins in cooking and festivals. That means we are full of inspiration. Check out our recipes via our website or our socials."
"You can enjoy Willy Nacho anywhere: at home, at a festival, at a restaurant or on vacation"